In the 1960s, the most significant event for the harriers occurred in February 1961 when Arthur Williams resigned. He said that the club had been denied their allocated use of the YMCA gym many times over the last few years when this facility had been hired to outside organisations. The entire committee followed his example. A few days later, a public meeting was held where most of the committee were re-elected and the club was renamed Port Talbot Harriers and Athletic Club. All the athletes followed suit and in effect the club had simply changed the YMCA in its name to Athletic Club and still continued to compete at the highest level in Wales.
In the 1930s, Ike O'Brien had made his mark as the harriers greatest athlete. In the 50s and 60s his five sons, Albert, Jim, John, Aneurin and Harry, followed in their father's footsteps. Jim proved the most able, winning many local races, representing Wales and claiming the Welsh 7-mile Cross country Championship in 1961.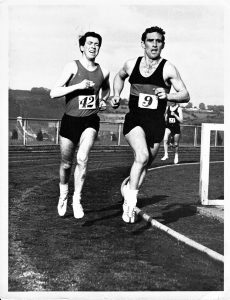 Dillwyn Robbins was a dedicated athlete and kept meticulous records of his training and racing. He joined the harriers and started training in June 1959. He ran his first ever race in May 1961 and. remarkably, won the Glamorgan 1-mile Championship in a time of 4-32.6. Only a month later, in only his 6th race ever, he won the Welsh AAA 1-mile Championship in 4-21.6. Dil went on to win many local races and represented Wales several times.
I am grateful to Christine Robbins who loaned me Dillwyn's diaries and photos. We also spent some happy hours reminiscing over the early days of Port Talbot Harriers which will remain in my memory forever. Thank you Christine. John Davies