In 1989, PTH faced a crisis. It was stated, allegedly, that the coaches and committee were tired of acting as babysitters for parents who had no other interest in the club. It was proposed that the club be dissolved, but the senior men opposed the motion and saved the club. Most of the men were working and had families so it was impossible to maintain the junior and female sections. During the 1990s, the club only catered for senior man who did their best to promote it. A Forestry Race was introduced by secretary Kevin Corcoran and the club championship was founded and organised by Kevin and John Davies.
Prominent members during this decade were Jeff Rees, Gareth Edwards, Mike Worlock, Simon Cooper, Tim O'Leary and Vince Lewis. The club won division 5 of the Welsh T&F League and were promoted to division 1 of the Gwent Cross Country League.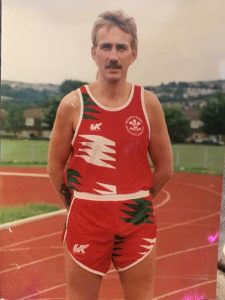 Highlight of the decade was in 1997 when Tony "Bomber" Holling became our only full International. He captained the Welsh team at the Celtic Plate 100Km event after winning the Welsh 40-mile track race in Barry.
Written by John Davies