PTH plodded along through the early years of the new century. Tony Holling was outstanding in the long distance field and was a regular in the Welsh Ultra Team. Noteworthy contributions were made by Steve Rees, Charles Walsh, Steve Wilkinson, Gareth Ayres, Carl Ellis, Judith Oakley and Carol Moseley.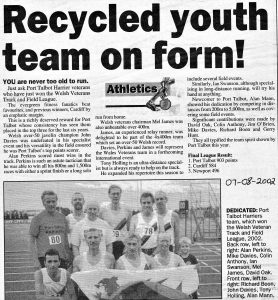 The old men pulled out all the stops in 2002 to win the Welsh Masters T&F League ahead of such giants as Cardiff and Swansea. The team of Mel James, Jim O'Brien, Ian Swanson and John Davies set a new Welsh record for the M50 4x100m relay.
Towards the end of the decade the lady's section saw a significant increase in numbers. The result was that they won division 1 of the West Glam Cross Country League in 2009.
Written by John Davies